Is Your School In For School
Choice Week?
"National School Choice Week shines a positive sporlight on great schools throughout the country – just like yours."

National School Choice Week provides an unprecedented opportunity, every January, to shine a spotlight on the need for effective education options for all children. Planned by a diverse and nonpartisan coalition of individuals and organizations, National School Choice Week features special events and activities that highlight support for school choice programs and proposals. The effort is a collaboration of more than 200 partner organizations (like the Florida Charter School Alliance), which each use the week to advance their own messages of educational opportunity while uniting with like-minded organizations across the country.
National School Choice Week believes that parents should be empowered to choose the best educational environments for their children and supports a variety of school choice options — from encouraging increased access to great public schools, to public charter schools, magnet schools, virtual schools, private schools, homeschooling and more.
As of December 12, Florida lead the way with the most registered schools in the country. And there is still time for you to register your school. The October 1 deadline has been extended due to the overwhelming demand.
When you celebrate great schools by holding an event during National School Choice Week, you will be sent a free event kit, filled with their signature yellow scarves, balloons, lapel stickers, and more. Mark your calendars now for January 27 – February 2, 2013. Plan any type of event, a special assembly, a balloon release, a parent's evening or an open house…it's up to you!
It's easy to get involved. Simply complete the entry form below which can be found at:  http://www.benchmarkemail.com/c/l?u=1EB942F&e=251BA9&c=1F16C&t=0&l=23B5BEF&email=AlRAhDk5U2QKOoR7p98ICWeu32GMFGmc – to reserve your kit. If you want to register more than one school, or have any questions, please email their outreach team at:schools@schoolchoiceweek.com.
___________________________________________


Oasis Charter High School Student Who Can't Eat, Studies To Be A Chef

S
amantha Pecoraro, an Oasis Charter High School student, was recently in the Cedar Restaurant's kitchen in Washington, D.C., surrounded by mouthwatering dishes, even though she can't eat any of them.Pecoraro, 15, has a rare auto-immune disease called eosinophilic esophagitis, or EOE. "Very painful," she says. "A lot of food impaction, gagging on food, not being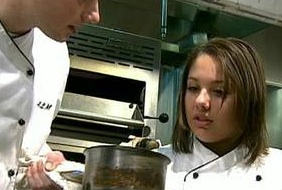 Samantha Pecoraro
able to swallow, furrowing in my throat." She has been in and out of hospitals, and gets most of her nourishment through a tube in her stomach. But she loves cooking and she takes classes at her high school.
Scott McCloud read about Pecoraro and called his brother, the head chef at Cedar.
"I called Aaron," he said. "I explained, there's this kid. She's 15, she can't eat and she wants to be a chef." The Penn Quarter restaurant flew Pecoraro and her parents up to Washington, D.C. to spend a few days learning from the chef himself.
"I call myself the 'blind chef,' because when you're blind, your other senses are heightened," Pecoraro says. "You can hear better, things like that. Well, I can now smell better, since I don't have taste anymore. My dream is just to cook and to make people happy," Pecoraro says.
While in the kitchen, Pecoraro worked with five or six others from start to finish for each plate. She came across new food items like quail eggs and also worked with shallots, scallops, veal and bison. She demonstrated her talent beside McCloud for an on-air cooking demonstration for the local FOX affiliate network in D.C. and juggled press conferences. Pecoraro also learned how the restaurant makes pasta, cooked quince, a golden, pear-shaped fruit, worked with foie gras, and tourneed vegetables, and a lot of other skills most young cooks aren't exposed to.
"I'm just overwhelmed with generosity and I'm so happy that I got this opportunity."
The owners of the Cedar restaurant put together a fundraiser dinner, where all proceeds were to be donated to CURED.
Story by: Greta Kreuz – WJLA/ABC 7 News
___________________________________________

Thoughts on Updating Your School's Emergency Management Plan


Secretary of Education, Arne Duncan, recently shared some resources from the U.S. Department of Education'sReadiness and Emergency Management for Schools Technical Assistance Center that may be helpful to you and your team, now and in the future.
As hard as it is to talk among adults about such a tragedy, it can be even more difficult to talk with students and our own children. Helping Youth and Children Recover from Traumatic Events is a compilation of resources from the Department of Education, other federal agencies, and counseling experts. It is so important to give children the chance to talk, write, or draw to express their emotions. Please create the time and space for them to do that.
The Department also has several resources on Creating and Updating School Emergency Management Plans. If you do not have a crisis plan in place, please take steps to develop one.  Engage a variety of school personnel and community partners. Plans should be comprehensive, anticipate a variety of hazards, and focus on the four phases of emergency management: prevention-mitigation, preparedness, response, and recovery.
If you do have an emergency plan in place, please review it, update it as necessary, and practice that plan regularly. Knowing what to do when faced with a crisis can be the difference between calm and chaos.
___________________________________________

Good Report Cards For Florida High Schools

Public high schools in the Miami-Dade, Broward and Palm Beach County school districts have received good grades in the Florida Department of Education (FDOE) 2012 Annual Report Card.
In Broward, all district and charter high schools earned a grade C or higher.
Moreover, this year's results highlight that 82 percent of Broward's high schools earned a grade of "A" or "B" versus 76.3 last year, including Hallandale and Piper high schools, both improving to an A from a C last year. Flanagan, Fort Lauderdale and Taravella high schools all also improved to an A from a B last year.
Broward's high schools outperformed the state's big five districts (including Hillsborough, Miami-Dade, Orange and Palm Beach) and the state with 69 percent receiving an A and 82 percent receiving an A or B.
Among other highlights from this year's Broward high school grades, 22 district and five charter high schools received an A, increasing from 14 district schools and three charter schools last year. Four district high schools and one charter school earned a B grade, down from 12 B grades last year. Six high schools and one charter received a grade of C, up from five district schools and down from two charter schools last year. No high schools received a D or F grade.
For additional information on school grades in other Florida cities, visit the Florida Department of Education website at:Â schoolgrades.fldoe.org
___________________________________________Â